All Natural Fungus and Insect Control
$ 9.95 USD
The perfect solution for organic gardeners who want to control fungus damage and harmful insect in one formula.
Four ounces mixes with a half gallon of water and can be sprayed on your plants for effective control.
This spray is more effective if sprayed a few days in a row. Spray first thing in the morning or towards the evening when beneficial insects are not attending your plants.
It is harmless to people, pets and bees!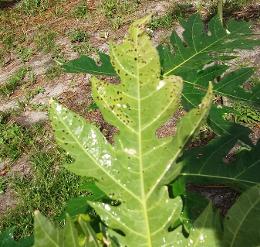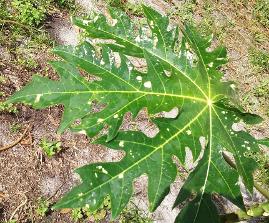 The black spots shown on this Papaya leaf is a fungus called "black spot" and it is said to be fatal to the plant. This photo was taken before the second spraying.
The white spots are where the spots were before spraying the first time. The fungus is gone from the white areas leaving only the small pieces of leaf which is dead. This will not affect the plant as the papaya loses its leaves on a regular basis anyhow.
The important thing is that the black spot is killed and the plant survives.
The second photo is after the second spraying of the plant. The black spot is totally gone.
The plant was checked two weeks later and there were no more instances of the fungus!